Finger Lakes Region
1997 Event #1: Rochester Institute of Technology
Sunday, April 27, 1997
This was the first event of the season, and as usual the day began with the search for a space to call my own for the day. The paddock was already well inhabited when I arrived, but I grabbed a spot near the tech inspection area.

The Paddock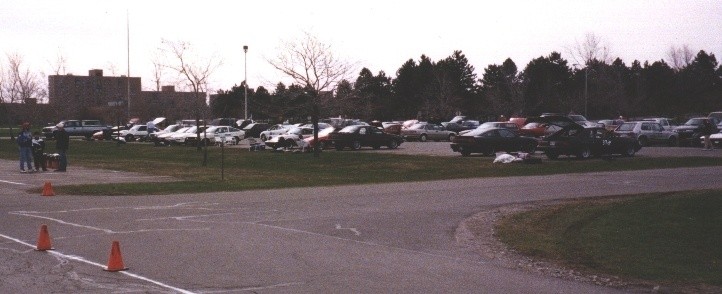 Tech Inspection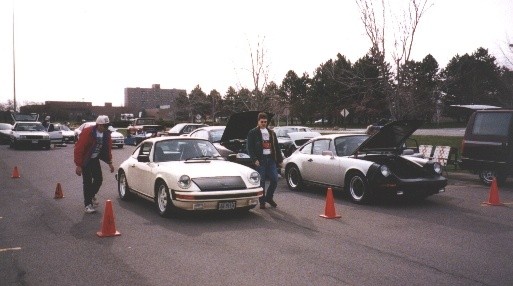 After I registered, I pulled out my magnetic numbers, and got ready for tech inspection. I felt right at home pulling my helmet out and making one last check of the interior for loose objects to be removed. In no time my car looked ready for action, and I took my place in the Tech Inspection line.

Once my card was teched, I took my first look at the course. Although each course is unique, there was still a sense of familiarity to the scene.

The Course, Viewed From the Paddock


The Course, Viewed From the Far End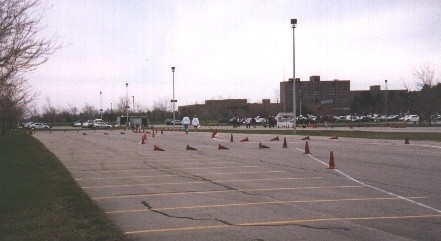 As I took my first course walk, I felt my heart beat just a little faster. Was it the adrenaline? Perhaps it was just the fact that I hadn't walked that much since the final event last fall.

Before long it was time for the drivers' meeting. I found myself listening very closely to all the things I have heard so many times before. I never really noticed how integral to the experience this meeting is for me.

The Driver's Meeting


A Gaggle of Novices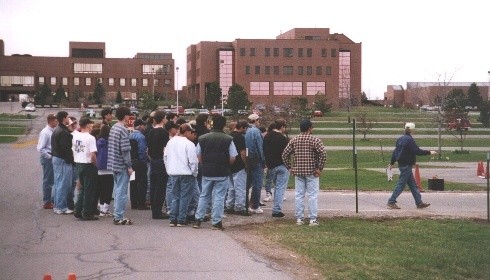 I was very impressed with the Novice turnout. Nearly a third of the participants chose this class for their home.
As the novices were taken out for their tutored course-walk, there was the usual flurry of jokes about who's not allowed to go along for the benefit of the extra insights. After five years I still found myself wondering what pearls of wisdom they would hear that I would miss.

21 SS: Judy Schoonmaker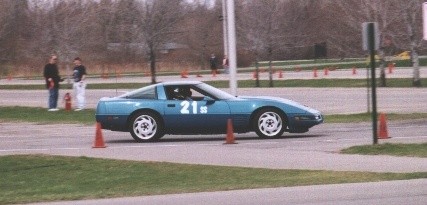 Before I knew it we were off and running! Here's Judy showing no signs of having to warm back up to driving.

141 FSN: Luong Tran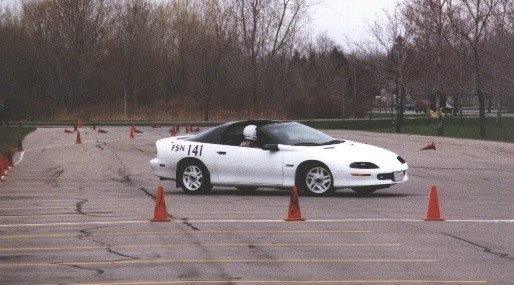 Here's one of the many Novices on course with an instructor along for advice. I can hear it now: "Slow is fast, Fast is slow!"

5 GS: Dave Shoenberger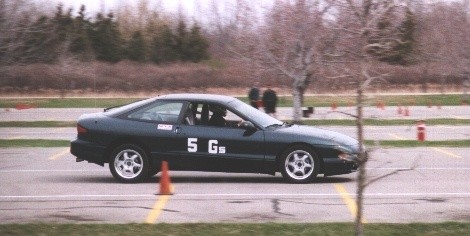 Here's Dave under heavy breaking in the Probe.

178 ST: Scott Rudolph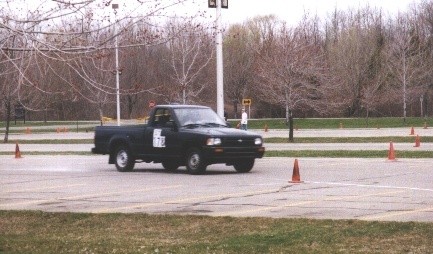 Here is our only Sport Truck entry for the day. The extra-light tail must require quite a different technique.

247 CP: Chris Heiney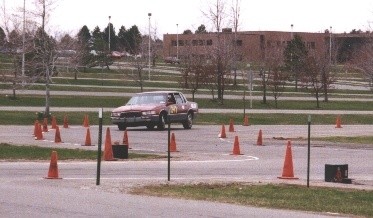 This was one of the more strangely classed cars on course. I want to know what they did to this caddy that put it in the Prepared category! (Actually, I hear this was a season points issue.)

47 ASP: John Crowley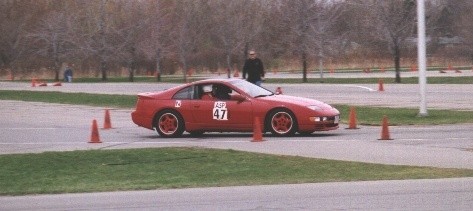 Here's John in a very nice looking Street Prepared car, apparently taking a novice along to (hopefully) show him or her how it's done.

61 DSP: Tina Reeves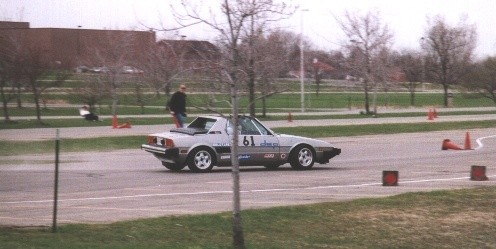 There goes Tina! I can tell it's her because her helmet isn't sticking out through the T-tops.

17 BM: Ron Fish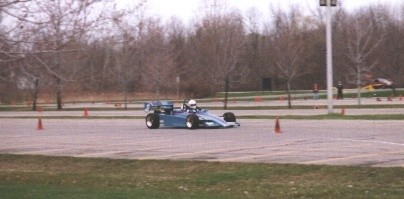 Ron & Brad Fish's Modified car is a very familiar sight. I don't think I would feel at home without it.

202 AM: Gerald Faber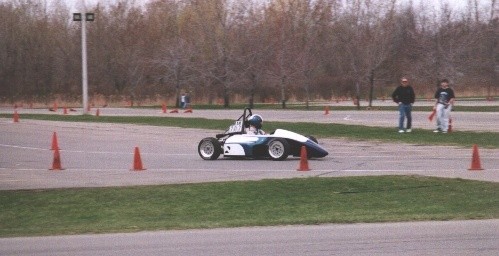 Here is Rochester Institute of Technology's Formula S.A.E. car. This car also shows up every year, but because it is a class project, it's not really the same car each time. I understand they start over each year.

200 AM: Ken Muench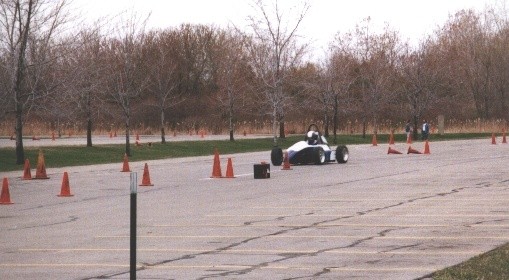 It wouldn't be a class project if you didn't let the whole class drive it!

22 Cart: Nicolas Schoonmaker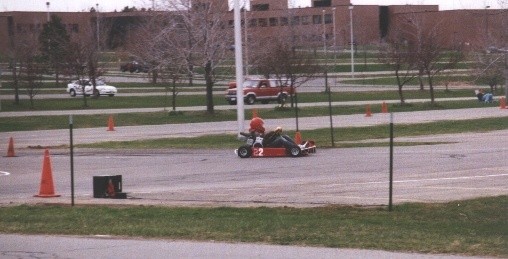 Here is a new sight for Finger Lakes Region, and indeed SCCA. Hey, if we can run our cars on their go-cart tracks, they can certainly run their go-carts on our autocross courses!

50 CP: Bob Pozniakas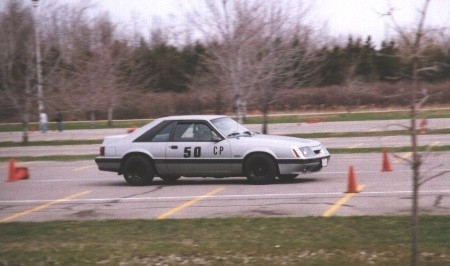 Poz has been campaigning this car for quite a while. This year he has some new competition.

27 CP: Tim Rizzo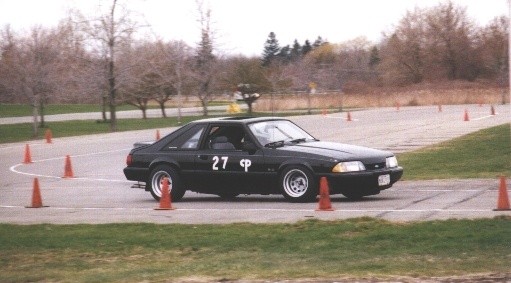 Here is Tim driving John Greathead's newly modified autocross veteran Mustang. I've never seen this car look so good.

37 CP: John Greathead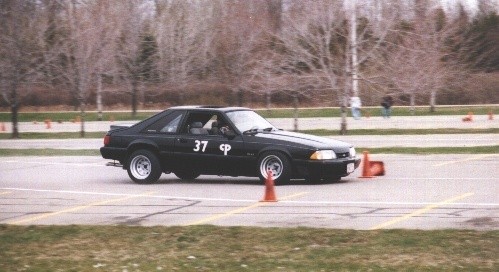 Here's John getting used to his new and improved CP screamer. You can see the generous amounts of negative camber in the new suspension setup. He and Tim both did quite well considering the engine work isn't done yet.

All I can say is that I wish someone was there to take a picture of my car in action.
Up | Wall Construction | General Photos | Third Photos | Car Photos | AutoCross
Page maintained by Mike Stutzman, stutz@earthling.net Last updated: 12/04/03 04:11 PM